Hi all! I've been a bad blogger! I've been gone over a month! EEKS! And I have so much to share! Easter stuff(is it even worth sharing?) Some trips(I've been out of town the 3 weekends out of the past 4!) So a lot of catching up to do Man-friend and my mom have let me know-the ball that I was carrying, I completely dropped! UGH! But I can do it! :) I have a pretty cool project to share today that I am doing in honor of the Spring Pinterest Challenge dreamed up by
Sherry
and
Katie
! Nothing like this challenge getting me moving!
A long time ago I originally pinned this beaut: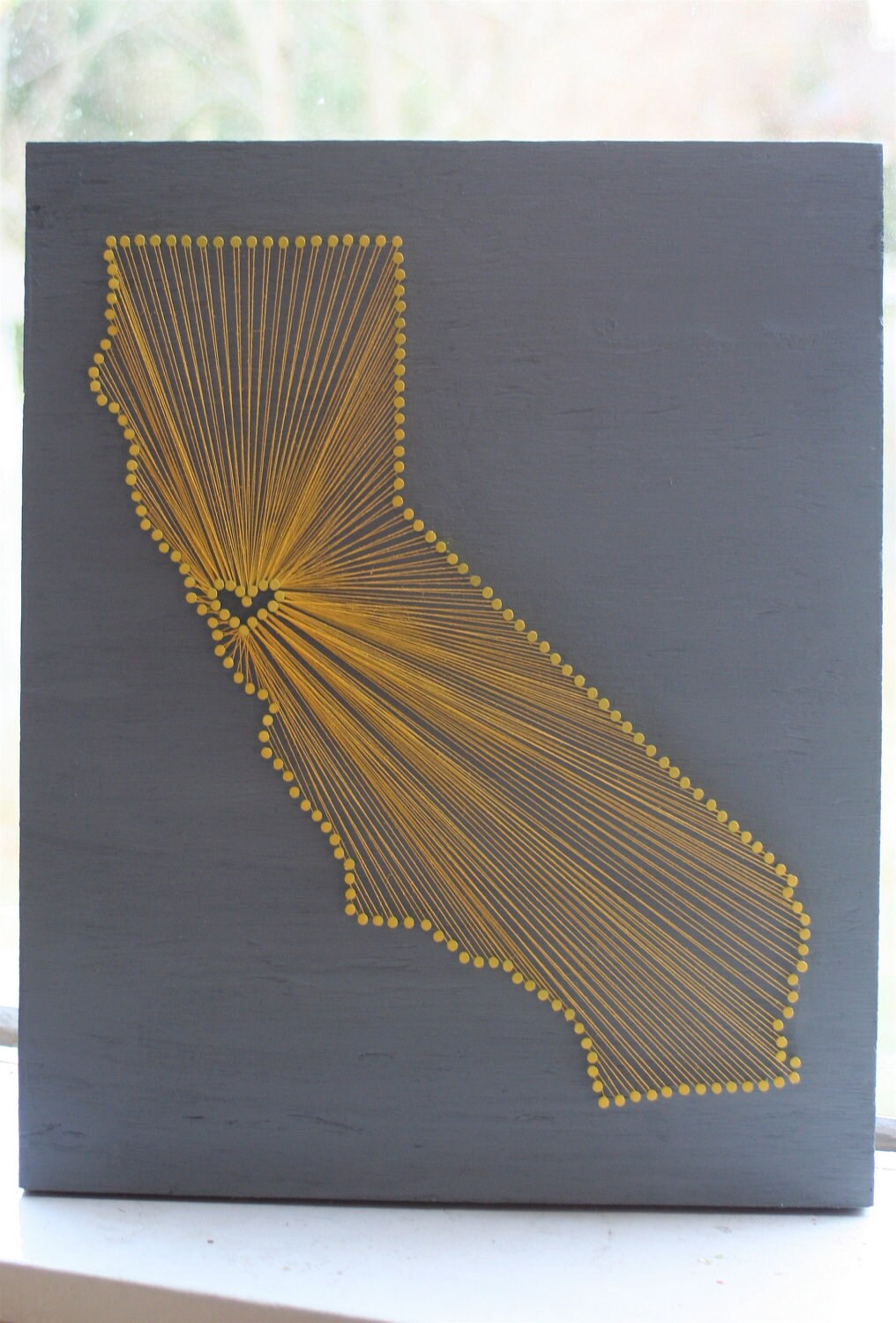 Isn't she nice? I thought i could totally manage it. So I headed over to the local Home Depot got a chunk of wood, had them cut it down to approx the size I wanted. I printed out my home state and cut along the borders. I was careful to do it perfectly, but next I'll know it doesn't really how carefully it is cut out.
In my inspiration, I think they used a foam board covered in cloth with pushpins. Looking back, this probably would have taken significantly less time. But I wanted the gritty details of the wood. Because I wanted a little bit of the grain to show, I spray painted my wood(after a light sand on the edges to get them smoothed a bit). I centered and taped the state down and then I got to work:
Manfriend made me work in the kitchen while I was hammering along the borders. It was a bit of a work out. And some of my nails got a little wonky:
I think it adds a little character:
And it was actually really hard to get them perfectly straight. I started on the top thinking the straight part would be the easiest, but I think that was a misstep. Oh well, live and learn.
Then I got to work with my stringing. I used embroidery thread. I've seen this done with yarn and I've seen this done with thread. I thought this was a nice middle of the road material. And it came in a nice warm color that will work well with colors I have in my bedroom.
It only took me about 30 minutes to finish this part of the pojects. And I did it while talking with my mom on the phone and talking with manfriend about an upcoming vacation. The majority of the time went into hammering in the nails. I'd say if you want a similar project to go faster, I'd go for a fabric on foam or cork board with push pins.